About Us
Mahi Tandoori is a Indian takeaway in Bognor Regis. Why don't you try our Curry Sauce or Poppadom?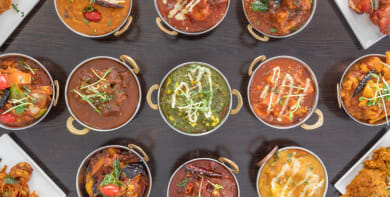 Reviews
157 reviews
Glen
"Great food as always"
26/05/2020
Richard
"Great tasting food. Best Korma I have ever had."
23/05/2020
Dawn
"Lovely food and great service. Would recommend."
23/05/2020
Sheamus
"Got extra poppadoms, food came early and was delicious! Perfect service! Will definitely order from here again"
16/05/2020
Menu
Tikka Masala Chicken
A delightful & very popular mild dish
£6.95
Tikka Masala Lamb
A delightful & very popular mild dish
£7.65
Tikka Pasanda Chicken
Mild dish with a unique flavour made with cream, almonds & coconut
£6.95
Tikka Pasanda Lamb
Mild dish with a unique flavour made with cream, almonds & coconut
£7.65
Tikka Badami Chicken
Cooked in a smooth mild sauce with cashew nuts
£6.95
Tikka Badami Lamb
Cooked in a smooth mild sauce with cashew nuts
£7.65
Tikka Butter Chicken
Cooked in a smooth sauce with butter
£6.95
Tikka Butter Lamb
Cooked in a smooth sauce with butter
£7.65
Tandoori King Prawn Masala
Cooked in a specially prepared creamy sauce
£11.95
Chef's Special Delight Chicken
Mild dish with mango, almonds & coconut
£6.95
Chef's Special Delight Lamb
Mild dish with mango, almonds & coconut
£7.65
Tikka Peshwari Chicken
Sweet creamy with sultana
£6.95
Tikka Peshwari Lamb
Sweet creamy with sultana
£7.65
Shashlik Masala (Mild) Chicken
£7.95
Shashlik Masala (Mild) Lamb
£8.95
Set Meal for One
Starter: 1 poppadom, 1 onion bhaji
Main dish: 1 chicken tikka korai
Rice & main: 1 pilau rice, 1 naan
£12.50
Set Meal for Two
Starter: 2 poppadom, 1 mango chutney, 1 chicken tikka, 1 seekh kebab
Main dish: 1 lamb bhuna, 1 chicken tikka masala
Side: 1 bombay aloo
Rice & naan: 1 special rice, 1 naan
£27.50
Set Meal for Four
Starter: 1 seekh kebab, 1 chicken tikka, 1 tandoori chicken, 1 vegetable samosa, 3 poppadoms, 1 mango chutney
Main dish: 1 chicken tikka masala, 1 chicken bhuna, 1 lamb bhuna, 1 king prawn chilli garlic
Side: 1 saag aloo, 1 vegetable curry
Rice & naan: 1 egg rice, 1 mushroom rice, 1 garlic naan
£40.00
Aloo Chana
Potato & chickpeas in light spices
£2.95
Tarka Daal
Lentils with fried garlic
£2.95
Aloo Gobi
Potato & cauliflower
£3.15
Saag Aloo
Spinach with potato
£3.15
Keema Aloo
Minced meat with potato
£3.65
Saag Paneer
Spinach & cheese
£3.95
Brinjal Bhaji (Aubergine)
£3.75
Chips
Only served with main course
£2.45
Special Mixed Biryani
Chicken, lamb & prawn
£9.15
Chicken & Mushroom Biryani
£7.95
Vegetable & Chilli Garlic Biryani
Medium hot
£7.15
Vegetable Chilli Garlic
Faitly hot
£5.95
Vegetable Jalfrezi
Fairly hot
£5.95
Vegetable Naga
Fairly hot
£5.95
Jalfrezi Chicken Tikka
Cooked in thick sauce with onions, green peppers & green chillies
£6.95
Jalfrezi Lamb Tikka
Cooked in thick sauce with onions, green peppers & green chillies
£7.65
Jalfrezi King Prawn
Cooked in thick sauce with onions, green peppers & green chillies
£10.50
Korai Chicken Tikka
Slightly hot cooked with chunks of green peppers, onions & tomatoes
£6.95
Korai Lamb Tikka
Slightly hot cooked with chunks of green peppers, onions & tomatoes
£7.65
Korai King Prawn
Slightly hot cooked with chunks of green peppers, onions & tomatoes
£10.50
Chilli Garlic Chicken Tikka
Cooked with flakes of garlic, green chilli, herbs & spices
£6.95
Chilli Garlic Lamb Tikka
Cooked with flakes of garlic, green chilli, herbs & spices
£7.65
Chilli Garlic King Prawn
Cooked with flakes of garlic, green chilli, herbs & spices
£10.50
Makhani Chicken Tikka
Cooked in a special sauce with green chillies herbs & spices
£6.95
Makhani Lamb Tikka
Cooked in a special sauce with green chillies herbs & spices
£7.65
Naga Chicken Tikka
An aromatic dish full of flavour chilli from Bangladesh infused to make this exceptional taste
£6.95
Naga Lamb Tikka
An aromatic dish full of flavour chilli from Bangladesh infused to make this exceptional taste
£7.65
Samba Special Chicken Tikka
Cooked in a special sauce with vegetable & lentils
£6.95
Samba Special Lamb Tikka
Cooked in a special sauce with vegetable & lentils
£7.65
Roshuni Chicken Tikka
Colouful, juicy, tasty curry with garlic & green chillies
Hot & sweet
£6.95
Roshuni Lamb Tikka
Colouful, juicy, tasty curry with garlic & green chillies
Hot & sweet
£7.65
Roshuni King Prawn
Colouful, juicy, tasty curry with garlic & green chillies
Hot & sweet
£9.95
Radhuni Chicken Tikka
Cooked with roasted garlic, ketchup, green chilli & herbs & spices & mango pickle
Hot
£6.95
Radhuni Lamb Tikka
Cooked with roasted garlic, ketchup, green chilli & herbs & spices & mango pickle
Hot
£7.65
Baburchi Chicken Tikka
Cooked with turmeric sauce - a unique flavour, fairly hot in chef's secret recipe
Fairly hot
£6.95
Baburchi Lamb Tikka
Cooked with turmeric sauce - a unique flavour, fairly hot in chef's secret recipe
Fairly hot
£7.65
Rangela Chicken Tikka
Creamy curry with butter, ground almond & coconut
Slightly hot, sweet
£6.95
Rangela Lamb Tikka
Creamy curry with butter, ground almond & coconut
Slightly hot, sweet
£7.65
Khandary Chicken
Tandoori chicken, cooked with minced lamb, green chillies & coriander
£6.95
Khandary Lamb
Tandoori chicken, cooked with minced lamb, green chillies & coriander
£7.65
Chilli Murgh Masala Chicken
Delicious hot curry cooked with fresh breast chicken, chopped garlic, green chilli & herbs
£6.65
Chilli Murgh Masala Lamb
Delicious hot curry cooked with fresh breast chicken, chopped garlic, green chilli & herbs
£7.65
Green Chilli Masala Chicken
Cooked in thick sauce with green peppers, spring onion, green chillies & extra coriander
£6.95
Green Chilli Masala Lamb
Cooked in thick sauce with green peppers, spring onion, green chillies & extra coriander
£7.65
Sweet Chilli Chicken Chicken
Cooked in thick sauce with onions, green peppers, green chillies & sweet chilli sauce
£6.95
Sweet Chilli Chicken Lamb
Cooked in thick sauce with onions, green peppers, green chillies & sweet chilli sauce
£7.65
Lemon Chilli Chicken Chicken
Cooked in thick sauce with onions, green peppers, green chillies & lime
£6.95
Lemon Chilli Chicken Lamb
Cooked in thick sauce with onions, green peppers, green chillies & lime
£7.65
Special Mixed Balti
Cooked with chicken, lamb & prawn
£8.75
Chicken Tikka Masala Balti
£8.50
Chicken Chilli Garlic Balti
Fairly hot
£8.50
Chicken Tikka Mushroom Balti
£8.50
Special Delight Balti
Chicken cooked in a special sauce with mince lamb
£8.50
Tandoori Special Tawa
A combination of chicken tikka, lamb tikka, tipped in diced onion, green peppers, garnished with herbs & spices
Served with naan bread
£8.95
Tandoori Chicken Main
On the bone
£6.95
Chicken Shashlik
Skewered with green peppers, onions & tomatoes
£7.25
Tandoori Mixed Grill
Consisting of chicken & lamb tikka, tandoori chicken, seekh kebab & naan
£10.95
Tandoori King Prawns
King prawns marinated in herbs & spices grilled in a tandoori oven on skewers
£10.95
Spicy Chicken Tikka
With flake garlic, green chillies & coriander
£7.95
Lamb Shashlik
Skewered with green peppers, onions & tomatoes
£7.95
Mahi's Special Mix
A combination of chicken tikka, lamb tikka & vegetable samosa
£4.95
Mixed Kebab
Seekh kebab, chicken tikka & lamb tikka
£3.95
Tandoori Chicken Starter
On the bone
£3.25
Golden Ball
Chicken tikka & potato ball with cheese in breadcrumb fried until its golden
£4.50
Chicken Chaat
Dried chicken cooked with special chaat masala with chickpeas
£3.50
Chom Chom Chicken
Cooked in a medium special tangy sauce
£4.95
Lamb Chops (Starter)
Marinated in chef's secret recipe (2 pieces)
£5.95
Special Mixed Masala
Thick sauce bhuna dish with chicken tikka, lamb tikka & mince lamb
£7.95
Almashriqi Chicken
Tikka pieces in a bhuna sauce topped with spinach & cashew nuts
£6.95
Almashriqi Lamb
Tikka pieces in a bhuna sauce topped with spinach & cashew nuts
£7.65
Chicken Saag Paneer
Special bhuna sauce topped with spinach & cheese
£7.95
Garlic Chicken
Thick bhuna sauce with flakes of fresh garlic, herbs & spices
£6.95
Garlic Lamb
Thick bhuna sauce with flakes of fresh garlic, herbs & spices
£7.65
Chicken Aloo Paneer
Tikka pieces in a bhuna sauce with potato & cheese
£7.95
Chicken Tikka Chana Masala
Tikka pieces  in a bhuna sauce with chickpeas
£6.95
Special Masala (Medium Hot) Chicken
Cooked in garlic, ginger, turmeric, garam masala, 7 lots of tomatoes & garnished with green chillies
£7.65
Special Masala (Medium Hot) Lamb
Cooked in garlic, ginger, turmeric, garam masala, 7 lots of tomatoes & garnished with green chillies
£7.95
Shatkora Chicken
Cooked in tropical lime flavoured sauce with potato
£6.95
Shatkora Lamb
Cooked in tropical lime flavoured sauce with potato
£7.95
Shashlik Bhuna Chicken
Medium hot
£7.95
Shashlik Bhuna Lamb
Medium hot
£8.95
Lamb Chop Bhuna
Medium hot
£8.95
Chicken Tikka Cheese Naan
£4.95
Special Fried Rice
With eggs & peas
£2.95
Garlic Fried Rice
Flaked garlic with onion & cashew nut
£2.95
Contact Us
Find Us
4 Rose Green Road, Bognor Regis, PO213EX